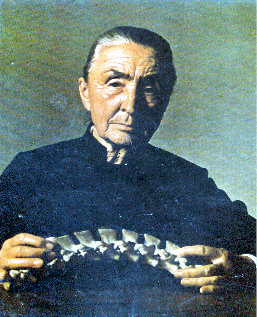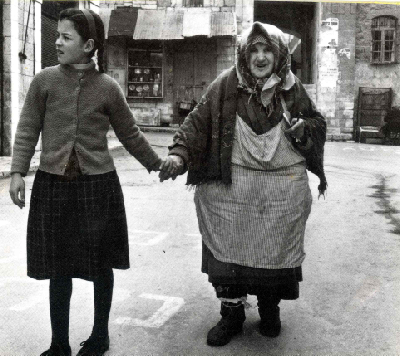 On the Street - Vanessa Ng, 6.6
Grand-daughter:
The streets are grimy, dirty and old!
Moss creeps up the walls!
I want to go home, to the city!
I don't want to be here at all.
Grandmother:
The streets are simple, uncomplicated.
Soft tufts of moss soften the pavement.
This is where I lived as a child,
Where clear starry skies helped me sleep.
The city is too noisy and complex.
It is here that I am never alone.
The city will never be pretty like this.
It's here that I truly call home!
Photographs provide powerful stimuli.
The students were free to respond in whatever form they felt appropriate for the picture. They were introduced to poetic portraits written in the first person, as well as dialogue poems.
Photos introduce different cultures, locations, seasons, unusual points of view, macro close-ups - all of which can generate powerful pieces of writing.
Compare the two very different responses to the photo of the man holding a bone. (I say 'man' because that's how the girls see him - I've always seen her as a woman!)
Bone Collector – Avelie Wong
What a poor old man!
What's that in his hands? A bone?
Maybe it's the spinal cord of a dinosaur?
Oh, how he holds it dearly –
his pride and joy it must be!
It looks fragile and gross to me.
Why do people collect such queer objects?
The Doctor – Song Hyun Hua, 6.6
When healing others' illnesses
he opens his own wounds.
When straightening the others' bones
he bends his body to breaking point.
When he tells his patients to rest
he wants nothing more than to lie down
and rest.