© Roger Jenkins Pte Ltd 2020 | Feedback: rogerstoryteller@gmail.com

These are some of my signature stories which define the way I tell - my best and most popular:

Sometimes
reality is too complex.
Stories give it form.
Jean Luc Goddard
DON'T EAT YOUR LITTLE SISTER! My version comes from Malaysia, so croc learns little chicken is her sister from the monitor lizard (we all lay eggs.) Told with a lot of gesture, sounds and sign language (and therefore lesser and lesser narration as the story progresses!) "Your 'little sister' story was truly wonderful! I sat there watching you with my mouth wide-open, mesmerized." Noga Algom, Israeli storyteller, Singapore International Storytelling Festival 2006
THE BEAR HUNT : audiences of almost any age never seem to tire of helping me tell this totally interactive tale (video: Thai university students enjoy) I tell it as a call-and-response, with lots of actions as we go over, under and through the various obstacles! I tell it from the pov of a 5 year old.
THE WOODEN SWORD: I found this Afghan tale about the power of faith in Heather Forest's Tales of Wisdom. A deeply engaging Islamic tale with a wonderful comic climax. I told it in Tabriz at the 16th Kanoon storytelling festival (and won the Best Stroyteller award). I used a long scarf to represent many different elements in the story (photo right), providing visual clues to help the largely non-English speaking audience and reduce the need for interpretation.

THE UWABAMI: a Japanese tale about an aspiring actor (one of its appeals for me!) and a shape-changing snake from Cathy Spagnoli that I interpret with the help of three coontrasting Noh masks.
THE BOLD YOUNG ROOSTER : a comic participation story greatly indebted to Margaret Read Macdonald about a wily rooster with a magic stomach and a greedy Sultan.
PLANTING SEEDS: this story is from Thailand and I found it in another of Cathy Spagnoli's collections. However, when she saw me tell it in Hong Kong (Longman's Storytelling Festival 2008) she didn't recognise it (I don't know if that's a good thing or not! But at least I've made it my own!) It's a chain story and I use a lot of props (see photo left) to help me 'remember' the story (and build interaction.) I also incorporate two magic tricks, one of which provides a very strong (surprise!) ending.
MA LIANG AND THE MAGIC PAINTBRUSH: a vivid and gripping version of the story of a selfless young artist.
THE STONECUTTER which I make very interactive with the use of sign language. I am indebted to Dennis Tan for much of this . See a video version here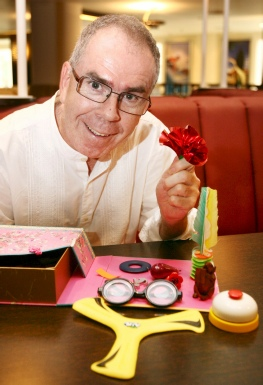 These are the props I use to sequence Planting Seeds - including a bell (for the mosquito) glasses (Grandpa) the chapteh (a bird) blue ear-ring (to suggest a pond) and the magic flowers which fall from fingertips!
a scarf becomes a
stack of firewood