Audio Describing (AD)
EMILY OF EMERALD HILL by Wild Rice
at their breathtakingly intimate new theatre at Funan Mall (21 Sept 2019).
It was a pleasure and a privilege to work with my fellow ACCESS HUB audio-describer Seren Chen on describing this excellent production featuring IVAN HENG who joined us for the pre-show TOUCH TOUR which is often a real highlight of an AD performance.
Our two users of the service, Robin (from UK) and Wai Yee, had the chance not only to explore the set, ascending to the balcony behind, but also to handle an embroidered kebaya (and learnt why the designer chose chrysanthemum for this particular piece) as well as run their fingers through Emily's outrageous fur hat.
Ivan, who joined us as himself, not in character - though he did let Wai Yee feel his fabulous long Emily nails! - answered her question (What's it like to act as a woman?) with sincerity and candour, sharing something of this accomplished actor's approach to his craft which we felt privileged to hear.
In such personal moments, the touch tour becomes genuinely special, and besides proving vision-impaired patrons valuable information about the world of the play, it offers them a unique experience which other audience members don't have.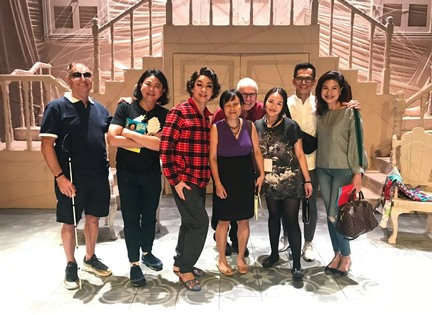 With Ivan Heng (centre) and co-describer Seren (3rd from right) and members of the Touch tour, on the set of Emily of Emerald Hill